2020 Artists
2020 Resonate Guest Artists
A-Z
ANDREW LITTLEFORD is fast gaining attention and recognition on the Canadian music scene, as an accomplished multi-genre trumpet performer and educator out of Winnipeg. He shares his warm, lyrical sound and effortless technique within the musical genres of jazz, classical, experimental/avant-garde, funk, soul and pop music.
Having grown up in a musical family, Andrew knew at a very young age that music was his passion and the trumpet was his voice. He began his studies in classical music, gaining a solid musical and instrumental foundation. While studying classical trumpet at Brandon University, Andrew became very interested in jazz and improvisation, completing his Bachelor Degree in Jazz Performance. He maintained his classical interests and earned a Master's Degree with distinction in Jazz Performance, from the prestigious New England Conservatory of Music in Boston, MA.
During Andrew's formal education and summer studies, he had many tremendous opportunities to work with fine musicians including Jerry Bergonzi, Vincent Cichowicz, Dave Douglas, Alan Ehnes, Laurie Frink, George Garzone, Greg Gatien, Dave Holland, Larry Knopp, Manon Lafrance, John McNeil, Jason Moran, Charles Schlueter, Gunther Schuller and Miguel Zenon. He is privileged to have performed alongside great musicians as Tommy Banks, Bob Brookmeyer, Don Byron, Michael Cain, George Culligan, Kenny Washington, Mike Herriot, Giorgio Magnanensi, Rob McConnell, Tiger Okoshi, Sam Rivers, Jovino Santos Neto, Sloan, Byron Stripling, Brad Turner, and closed the Saturday night main stage performance with Galactic at the Winnipeg Folk Festival 2013 as a member of the Dirty Catfish Brass Band.
Andrew's diverse musical ability and interests has afforded him a broad range of performance opportunities in and outside the city of Winnipeg with Symphonic Orchestras, Small Jazz Ensembles, Jazz Big Bands, Wind Ensembles, Experimental and Chamber Ensembles. He is currently involved with local groups such as the Dirty Catfish Brass Band, Ron Paley Big Band, Winnipeg Jazz Collective, Sunny Roseland, PRZM, "B" Side Champs, Dig! Big Band, Chameleon (Brandon), and the Winnipeg Brass Quintet. Andrew also leads the Andrew Littleford Trio and co-leads the Littleford/Carter Quintet where he performs his own original material. Andrew has also performed with local ensembles such as the Winnipeg Symphony Orchestra, the Winnipeg Jazz Orchestra the Winnipeg Wind Ensemble, and can be heard on a variety of albums with other Manitoba artists.
Andrew is a highly respected educator, clinician and adjudicator and he finds great joy sharing his passion for music with musicians of all ages. He has had the opportunity to adjudicate The Brandon Jazz Festival (2014, 2015), and be on Faculty at both the International Music Camp (2015) and the University of Manitoba's Summer Jazz Camp (2015).
He has had the good fortune to have been on 8 Western Canadian Tours as well as contributed to such albums as "Big Shiny Brass" (2016) – Dirty Catfish Brass Band: "It's Tough to be the Bad Guy" (2016) – Noble Thiefs; "Harmatten" (2015) – Alfa; "In My Corner" (2014) – Daily; "Finn" (2014) – FINN; "Brass Riot" (2014) – Dirty Catfish Brass Band; "Fruit and Ash" (2013) – Flying Fox and the Hunter Gatherers; "Waiting" (2013) – Kobalt; "Farewell 274" (2013) – Winnipeg's Jazz Community Celebrates Aqua Books; "Love" (2013) – Katherine Penfold; "Etherished" (2013) – Michael Peters; "This Time" (2011) – Kobalt; and the score for the film "Passion Flower" (2011).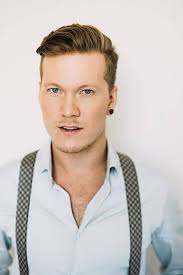 BRENDAN FRIESEN: Saskatchewan born bass-baritone Brenden Friesen has captured audiences with his powerful resonance, exceptional diction, enormous comedic presence, and incredible interpretation of text (Opera Canada). Brenden is a current member of l'Opéra de Montréal Atelier Lyrique and holds an MMus Opera degree from the University of Toronto, where he studied with Professor Lorna MacDonald.
Brenden recently made his debut with Opéra de Montréal in Verdi's Rigoletto as Count Ceprano. Recent performances include the role of Colline in Saskatoon Opera's production of Puccini's La bohème, as well as with Highlands Opera Studio in Haliburton Ontario. Brenden has undertaken such roles as Leporello and Il Commendatore in UofT Opera's production of Mozart's Don Giovanni, Masetto in Don Giovanni (Saskatoon Opera), Sarastro in Mozart's Die Zauberflöte, Imeneo in Händel's Imeneo (UofT Opera), The Police Chief in the 2018 UofT Student Composer Project opera Vengeance, and Jupiter in Offenbach's Orphée aux enfers (UofT Opera) under the baton of sensational Canadian baritone Russell Braun during his UofT conducting debut.
Upcoming performances include Masetto and Il Commendatore in a concert version of Don Giovanni in Ottawa January 2019, Brahms' Liebeslieder Waltzes in February 2019, and the role of Ernest Hemingway in Ricky Ian Gordon's 27 in March 2019, as well as Blansac in an excerpt performance of Rossini's La scala di seta in June 2019.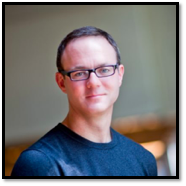 BRIAN BALMAGES is an award-winning composer, conductor, producer, and performer. He holds a bachelor's degree in music from James Madison University and a master's degree from the University of Miami in Florida. His compositions have been performed worldwide at the state, national and international level. His active schedule of commissions and premieres has incorporated groups ranging from elementary schools to professional ensembles, including the Baltimore Symphony Orchestra, Miami Symphony Orchestra, University of Miami Wind Ensemble, Boston Brass, and the Dominion Brass Ensemble. In 2012, Mr. Balmages received the prestigious Albert Austin Harding Award from the American School Band Directors Association. He is also a 2010 winner of the Harvey G. Phillips Award for Compositional Excellence, presented by the International Tuba-Euphonium Association.
As a conductor, Mr. Balmages enjoys engagements with numerous all-state and regional honor bands and orchestras along with university and professional groups. Notable guest conducting appearances have included the Midwest Clinic, Western International Band Clinic, National Association for Music Educators, American School Band Directors Association, CBDNA, the Kennedy Center, and Meyerhoff Symphony Hall. He has also served as an adjunct professor of instrumental conducting and Acting Symphonic Band Director at Towson University in Maryland.
Currently, Mr. Balmages is the Director of Instrumental Publications for The FJH Music Company Inc. in Fort Lauderdale, Florida. He resides in Baltimore with his wife Lisa and their two sons.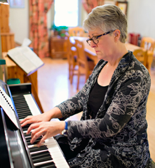 CATHY SPROULE, an accomplished piano player, began playing traditional fiddle accompaniment in 2003. She teaches piano at several fiddle camps across Canada and is the house accompanist for the Saskatoon Fiddle Orchestra. She accompanies Gordon and JJ at various times and plays piano on their "Twin Fiddles" CD. When not playing fiddle or piano, Cathy organizes fiddle events such as house concerts, the FiddlyNess Fiddle Camp and the Saskatoon bid for the Canadian Grand Masters Fiddling Championship in August, 2014.
She co-founded the Ness Creek Music Festival in 1991 as well as the Northern Lights Bluegrass and Old Tyme Music Festival in 2006. In 2014, along with organizing old time music workshops, concerts, camps and dances around the province, Cathy initiated a successful annual fiddle camp called "FiddlyNess," contributing to preservation of Saskatchewan's rich history.
CHRIS BROOKS started playing drums professionally at age 16.. He has run the gamut playing shows, clubs, Presidential inaugural balls with a big band and recording everything from kids records to film scores. He has recorded jingles for Dodge, Toyota, Taco Bell, McDonalds, Budweiser, Coors, Clorox and much of the theme music for CNN. In 1990, with the urging of his good friend Chris Crockarell, Row-Loff Productions was born. "We both had the desire to write and publish percussion literature that didn't exist when we were kids" states Brooks. "Now I spend most of my time writing percussion ensemble literature and serving as VP for Row-Loff." Chris Brooks is co-writer of "The Snare Drummer's Toolbox", a beginning snare drum method.
CHRIS CROCKARELL has been active in the percussion community for over 35 years in the marching, concert and drum-set idioms. After attending North Texas State University in the early 80's, Chris went on the road with the Ice Capades for 2 years and then toured with Louise Mandrell for 3 years. After which he settled down in Nashville and co-founded Row- Loff Productions in 1990.
Row-Loff has been a leader in providing State-of-the-Art marching & concert percussion lit- erature for over 25 years and continues to surpass all entertaining and motivational goals set before it. He is co-writer of "The Snare Drummer's Toolbox", a beginning snare drum meth- od. Chris currently resides in Nashville, TN with his wife and two daughters.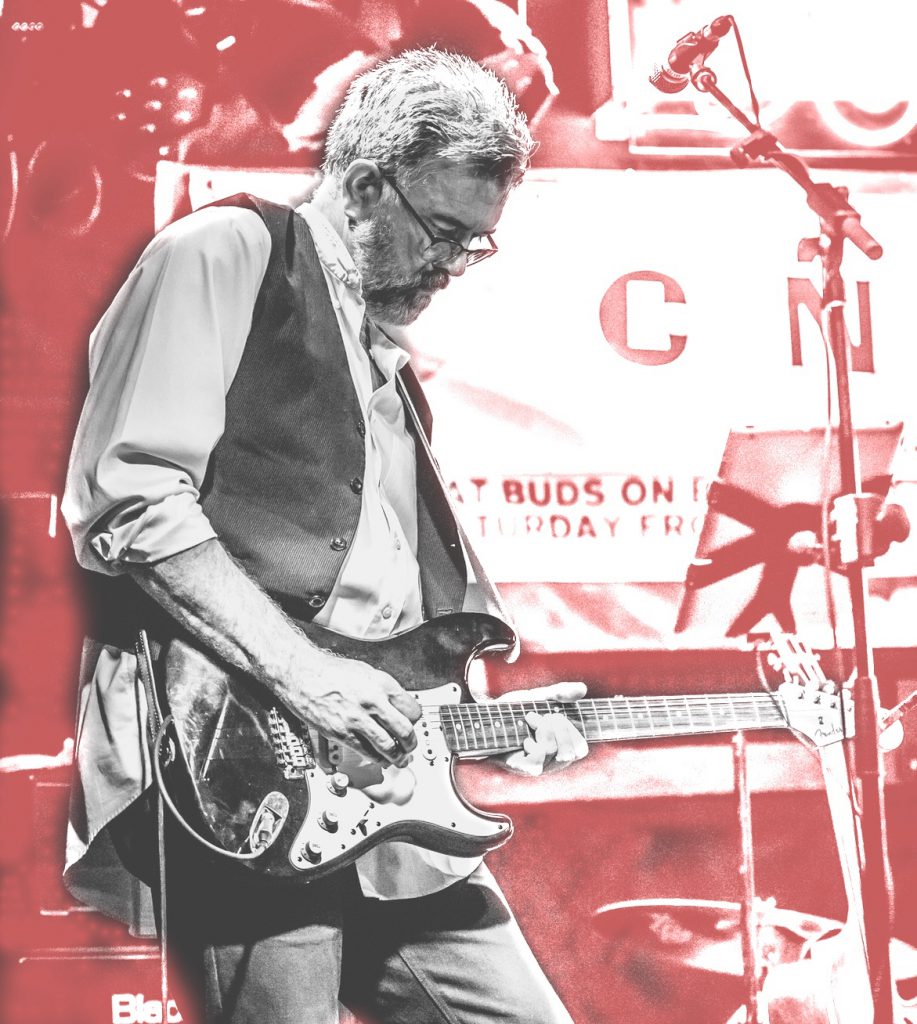 DAVE CARTER is a Learning Superintendent with Prairie Spirit School Division. Dave's was previously a Coordinator with one of his areas of responsibility to oversee the work of Music Education in the school division. Dave sings and plays guitar with The 3 Canadians which was formed in 2006. The 3 Canadians is a 4 piece band which performs a mix of rock, folk, and blues. In 2017, Dave formed the PSSD House Band made up of staff from Prairie Spirit School Division in which he acts as artistic director and provides guitar and vocals. Dave also performs with the Mountain Ridge Band.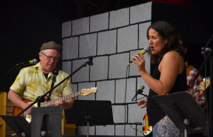 ELEANOR GLYN-JONES (a.k.a. "Elly Paris") is a singer/songwriter from Saska- toon. Elly graduated from the University of the Fraser Valley's Theatre Arts Program in 1997, and spent the following decade on the stage. During that time, she earned a handful of professional acting credits, but primarily made her living as a hard work- ing singer, performing an average of 250 shows per year. She has performed all over Western Canada and spent seven years entertaining on cruise ships for Norwegian and Celebrity Cruise Lines. Elly is the co-owner of Wand'Ring Star Music, where she has taught group music classes for children, and Vocal Performance workshops for intermediate and advanced students.
ERIC GLYN-JONES began his lifetime of musical studies and performance on both piano and guitar at the age of 7 and has been a full time professional working musician since 1980. He has performed extensively as a lead vocalist, lead guitarist and keyboardist, playing all contemporary musical styles including jazz, blues, rock, country and pop. Career highlights include composing and arranging five Act Natural- ly Children's Musical Theatre Productions, and spending seven years as Musical Di- rector, Band Leader and performer for Norwegian Cruise Lines. He co-owns Wand'Ring Star Music, where he now spends most of his time teaching his Musicians 2000 music education programs, which began development in 1990.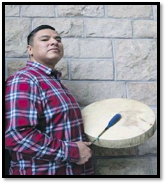 JACOB FAITHFUL is the drum keeper and co-founder of Grammy Nominated group Young Spirit Singers. Founded in the Frog Lake Cree First Nation, Alberta, Canada, Young Spirit (oskiyak kīsik in Plains Cree) has quickly become one of the most in-demand and respected groups on the Pow-Wow trail and the Round Dance circuit. The group was founded in 2001 and first sang at the Samson Cree First Nation Pow- Wow that same year. Since then the group has never looked back and has traveled ceaselessly throughout Canada and the United States. From its inception the group was created with the goal of empowering Indigenous/Native American/ First Nations youth with music and language. Noted for extensive use of the Plains Cree language in their Round Dance and Pow-Wow songs, Young Spirit view its music as a dynamic catalyst for sustaining Indigenous culture and sharing its importance with the world.
Amongst the many singing championships Young Spirit has won over the years, the drum group earned the 2013 and 2018 Worldwide Championship title at the Gathering of Nations Pow-Wow in Albuquerque, New Mexico. Their album Mewsinsational – Cree Round Dance Songs earned them an Indigenous Music Award for Best Hand Drum Album in 2018. The same album received a nomination in the Best Regional Roots category at the 61st Annual Grammy Awards. Young Spirit created a viral media sensation when they performed one of their acclaimed Round Dance songs live on the Grammy red carpet, taking Indigenous music to a place that it had never been shared before.
According to Young Spirit's drum keeper Jacob Faithful, the group is most happy when they have their families and kids singing and traveling with the group. The group can sum up much of its outlook with this statement – "Life is precious and we all have a choice about how we use our time here on Mother Earth."
JEFFERY STRAKER: Singer-songwriter-pianist Jeffery Straker performs over 100 shows per year across Canada and abroad. He has recorded for CBC radio's 'Canada Live', won a 2019 Western Canadian Music Award, has seen his music used in film and TV, and has toured internationally as far as The Netherlands, England and Mexico. His tour stops range from intimate house concerts to club & theatre shows and include folk & jazz festivals. He's also taken the stage in sold-out concerts of his music performing with multiple symphony orchestras. Canadian Musician Magazine has said, "Very much an artist to watch" while the Chicago Free Press has written, "Rufus Wainwright, as well as k.d. lang are among the Canadians making essential and beautiful music. Add the name Jeffery Straker to that list".
Jeffery launched his latest full length recording, "Dirt Road Confessional", in May 2017, continuing to push the boundaries of what it means to be a piano balladeer. With themes both contemplative and joyous, the 12-song collection encapsulates the seasoned Saskatchewan singer/songwriter's experiences of playing over 200 shows around the world since the release of his previous album, 2015's "North Star Falling". Straker regularly draws comparisons to a young Billy Joel or Elton John, with shades of Rufus Wainwright and Harry Nilsson thrown in, but on Dirt Road Confessional his personal storytelling style emerged in his own unified voice.
Determined to explore different approaches in the studio, the album was constructed out of five separate sessions each using different producers. Credits include: Daniel Ledwell, Royal Wood + Lawrence Katz, Dean Drouillard, Robyn Dell'Unto, Brad Prosko + Murray Pulver. Despite many hands being involved, the foundation of Dirt Road Confessional is Straker's unwavering sonic vision for the record, and its story about finding love while at the same time finding courage to pursue one's art.
"Lyrically it's very personal; I share a lot about myself. Musically I've moved in a more roots-folk direction, partly because that's the sound I grew up with. It seems like a really natural progression—dobro, banjo and acoustic guitar are featured, but piano is, of course, still at the core of most of the songs." Straker, in fact, grew up listening to country music on his family's rural Saskatchewan farm at the same time he was studying classical music and performing full sonatas and concertos by composers such as Beethoven and Grieg. Eventually, the work of fellow Saskatchewan native Joni Mitchell prompted him to begin writing his own material, and Straker's focus shifted to poetry and pop hooks. This recording sounds, wonderfully, like his influences.
Straker's latest release, "Light a Fire" (March 27, 2020) is a single from his forthcoming full-length album. Co-written with Royal Wood (and also produced by Wood) the song is an uplifting & upbeat anthem to "making positive change". Buoyed by lyrics that sing, "fear is the shadow, hope is the light" and "the heart it can whisper, the head has to choose", the melodic hook musically lifts the message. The production hints at the folk-roots flavor the rest of the album will present complete with acoustic guitar, banjo and vocal harmonies.
The song was written at a difficult time for Straker – his mother suddenly fell ill and was rushed to hospital. After two weeks on life support she miraculously recovered and the song was penned. The epiphany of needing to "be your best self for the brief time we have" was captured in the song. Sadly just one week later, Straker's mom passed away. The optimism of her beautiful spirit is captured in the song which has been performed on tour to enthusiastic audience response.
The full-length album "North Star Falling" was released March 2015. All of its 12 songs were produced by Dean Drouillard (Royal Wood, Justin Rutledge) who wove a new sound around Straker's songwriter-piano-pop. Electric guitars, horns, & strings as well as acoustic guitar helped set the stage. The launch of the album (Acronym/Universal Canada) included 2 national tours with performances from coast to coast. The album rose to to the top 10 (#9) on the iTunes Canada singer-songwriter charts within its first weeks.
The work that helped Straker hit the radar of many in Canada was his 2012 critically acclaimed recording, "Vagabond", produced by Canadian multi-instrumentalist, singer-songwriter Danny Michel. It was a thrill for him to record it on Glenn Gould's grand piano at the CBC studios in Toronto. The Toronto Star gave it 4 (out of 4) stars calling it "one of the most faultlessly conceived and meticulously executed albums in any genre to come out of Canada in a long time". 'Vagabond' debuted in the top 20 on the iTunes singer-songwriter charts and hit the top 10 on several college radio stations across Canada. Xtra! (Toronto) said of the album: "like the unexpected yet surprisingly down-to-earth lovechild of Neil Young and Elton John".
Originally from small town Saskatchewan, the classically trained pianist was raised by a church organist mother and an auctioneer father. He swears he was born under the piano on the family farm. All this might explain his ability to share songs with audiences. Jeffery is a musical descendant of Beethoven through teacher-student lineage (see below for the full story). He was a student of the Royal Conservatory of Music and received his licentiate diploma in piano performance from Trinity College, London when he was just 19.
JOEL JESCHKE is a professional drummer/percussionist based out of Edmonton, Alberta. Joel has performed/recorded with hardcore/metal band Motives ('Individuals' 2012), Post-Rock trio You Are An Explorer ('Acquiescence Suite' 2015), and Blues-Rock group Specner Vaughn Band ('Spencer Vaughn Band 2016). Joel is also a percussionist in the award winning wind orchestra The New Edmonton Wind Sinphonia (2014 season-present). Joel has performed internationally at various festivals including Mazzfest (2012), Canadian Music Week (2015), and WASBE (2016).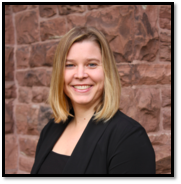 DR. JENNIFER LANG is an Assistant Professor of Music Education and the Director of Choral Activities at the University of Saskatchewan where she conducts the Greystone Singers and teaches Choral Literature, Choral Methods, Choral Pedagogy, and Elementary Music Methods. She is the organizer of the Department of Music's Music Education in Action Series and the founder and organizer of the uSing uSask Choral Festival. While completing her graduate studies at the University of Western Ontario, Jennifer was awarded a SSHRC Doctoral Fellowship and was an instructor at the Don Wright Faculty of Music and Faculty of Education and the Teaching Support Centre. Currently Jennifer serves as the past-president on the board of the Saskatchewan Choral Federation, the Board Chair for Musical Futures Canada, and a member of Choral Canada's Advocacy Committee and Editorial Committee. Prior to completing her doctorate, Jennifer served as a program leader of vocal and instrumental secondary school music with the District of Niagara Arts Academy in the District School Board of Niagara.
Dr. Lang's research examines engagement and agency in music education programs, including informal music learning in a variety of educational contexts, music creation in the classroom, and intergenerational singing programs. Jennifer is also active as a conductor, choral adjudicator, clinician and conference presenter with local, provincial, national, and international invitations. Dr. Lang has adjudicated most recently at Cantando Festival 2019 in Alberta; ChorFest 2019 in Saskatchewan; the Moose Jaw Band and Choral Festival 2019 in Moose Jaw Saskatchewan; ChoralFest North 2018 in Alberta; 2017 Cantando Sun Peaks Festival in British Columbia; and ChorFest 2016 in Saskatchewan. Her recent international conference presentations include: International Symposium on the Sociology of Music Education (2019, 2013); Research in Music Education (2019, 2017, 2015); Choral Canada's Podium (2018), Progressive Methods in Music Education (2018); and the International Society for Music Education (2016, 2014, 2012).
KAREN DONNELLY. After three successful seasons (1996-1999) as Acting Principal Trumpet of the National Arts Centre Orchestra of Canada (NACO), Karen Donnelly was unanimously appointed Principal Trumpet in October 1999, and continues to enjoy each year with this wonderful ensemble.
A native of Regina, Saskatchewan, Karen started the trumpet in her elementary school band. Her studies included programs at the University of Regina and McGill University. Following graduation, while freelancing in Montreal, she performed with most ensembles including the Orchestre Symphonique de Montréal and Les Violons du Roi.
Prior to the NACO, Karen held the position of Principal Trumpet with Orchestra London (Canada) from 1994-1996, and was invited to play with many ensembles in southwestern Ontario during her time there.
Chamber music projects have included performances with the Ottawa Chamber Music Festival, Rideau Lakes Brass Quintet, Music and Beyond, Capital BrassWorks. In 2008, Capital Brass Works released its third album, "Gabriel's Sister" featuring Ms. Donnelly as soloist. Many performances on the NAC's Music for a Sunday Afternoon series including a recital with Alain Trudel. Most recently, recording and performing with the super star group, Canadian National Brass Project.
Karen has been soloist with professional orchestras, community amateur orchestras, and many local school bands. These include Thirteen Strings Chamber Orchestra, Kington Symphony, Saskatoon Symphony Orchestra, Orchestra London, McGill Symphony Orchestra, Hannaford Silver Street Band and Youth Band, Maple Leaf Brass Band, Parkdale Orchestra, University of Regina Wind Ensemble, and the Regina Catholic Schools Honour Band.
Music education has always been very close to Karen's heart. She has given master classes and workshops in Switzerland, Mexico, China, United States, United Kingdom and Canada from coast to coast. Ms. Donnelly joined the teaching staff at the University of Ottawa in 2002, and since 2009, Karen has been assisting with the "Orkidstra" program, the local 'El Systema' inspired program.
Most recently, Karen spearheaded an exciting new initiative called the Canadian Women's Brass Collective. This group of talented all female musicians presented concerts, master classes and lectures in Toronto during January 2019 over a five day conference to great acclaim.
While influenced by so many great musicians, Karen has been very fortunate to study with James Thompson, Robert Earley, Barbara Butler, Michael Sachs, Phil Smith and the late Mr. Arnold Jacob and Vincent Chicowicz. And of course her first trumpet teacher Dr. Ed Lewis who helped keep the trumpet in her hands.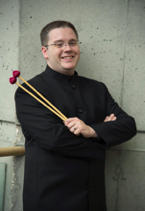 MATT ABRAHAM. A native of Winnipeg Manitoba, Matt Abraham holds a Bachelor of Music (Percussion) and a Bachelor of Education (Instrumental Music) from the University of Manitoba, where he received the Dr. Robert Fletcher Medal and Prize in Education. Principal percussion instructors include Jauvon Gilliam (National Symphony Orchestra, Washington) and Jeremy Epp (Detroit Symphony Orchestra, Detroit). As a freelance musician, Matt started his professional career at the age of 18 with the Winnipeg Symphony Orchestra where he was part of a JUNO nominated recording project, which later won a Western Canadian Music Award. In addition to his frequent appearances with the Winnipeg Symphony he has often appeared with the Royal Winnipeg Ballet, Manitoba Opera Association, and various musical theatre companies. He has also recorded and performed for a variety of solo artists on drum set and percussion.
As an adjudicator and clinician, Matt has often worked with percussion, trophy, and provincial classes for the Winnipeg Music Festival, as well as the Manitoba Band Association Solo and Ensemble Festival, the Manitoba Band Association Beginning Band Festival, and the Winnipeg Wind Ensemble Soloist Competition. Matt has also been invited to work with several honour bands and schools across Manitoba, Saskatchewan, Alberta, and Northwest Ontario. He has been invited to present guest lectures and work with students at the University of Manitoba, Lakehead University, Canadian Mennonite University, and Providence College, and has acted as adjunct faculty (Percussion / Percussion Techniques) for both the University of Manitoba and Canadian Mennonite University.
MEGAN NASH has been described by CBC Radio One's Tom Allen as having "a powerful voice and an authoritative style." Her one-of-a-kind voice, deeply personal songs, and unapologetically open personality leave an impression upon everyone who hears her.
Born in Mortlach, Saskatchewan. Megan has been nominated for Breakout Artist and Songwriter of the Year at the Western Canadian Music Awards and in 2019 was nominated for Contemporary Roots Album of the Year at the JUNO awards.
"With a powerful voice and emotional delivery, it's no surprise that the singer-songwriter has drawn comparisons to Serena Ryder and Martha Wainwright." – Exclaim!
On her latest album Seeker, Saskatchewan singer/songwriter Megan Nash collaborates with ambient/alt-rock unit Bears In Hazenmore with brilliant results. In sharp contrast to the starkness of her previous acclaimed album Song Harvest Volume One, Seeker takes Nash's roots-based songwriting into bold new sonic territory, displaying the undeniable chemistry she has forged with the group over the past year.

That shared excitement was the hallmark of the sessions that produced Seeker over the winter of 2017 with engineer Orion Paradis (Library Voices), held at Soul Sound in Regina, a space shared with a contemporary dance studio. The flexibility of the location offered Nash the freedom to fully explore the range of her new material, from the atmospheric "Girl Vs Ocean" and "Summer," to the anthemic "Lavender & Leather" and "Bad Poetry."

But as the concept of Seeker (embodied as well in its title track) suggests, Megan Nash is in the midst of her personal quest for spiritual meaning on her own terms. Her chosen path is through music, and as an artistic statement, Seeker displays the breadth of Nash's talents as a songwriter, vocalist and producer—the culmination of one stage of her journey while simultaneously beginning the next.
Nash currently resides on Treaty 4 Territory and is working on her next full length record.
PAUL SUCHAN Raised in North Battleford Saskatchewan, composer, performer, and educator Paul Suchan graduated with a B.Mus/B.Mus Ed (2007) from the University of Saskatchewan and M.Mus in Composition (2012) from the Université de Montréal where he studied with composer Alan Belkin. He is currently based in Saskatoon with his wife Naomi and daughter Evelyn.
Mr. Suchan's compositions have been performed across Canada, the United States and Europe by leading university ensembles, symphony orchestras, community groups, choirs, small ensembles and others. He is frequently commissioned by groups across Canada of various sizes and abilities. Notable performances include his piece Wake the Grain performed at the National Arts Center in Ottawa in 2014, led by Duane Wolfe, conductor of the Chicago Symphony Chorus. In 2011, his first opera, The Beast in the Jungle, based on a short story by Henry James, was premiered in Montreal, QC with full orchestra under the baton of the composer. His piece for band The Colors and Contrasts of Grief has received over 100 performances throughout North America and has been professionally recorded three times. His piece for saxophone and piano, Danse Exotique des Gros Papillions was recorded by Dr. Glen Gillis on Saxspectrum II, an album nominated for a Western Canadian Music Award. Overall Mr. Suchan's compositions have been professionally recorded and included on eight albums. Other chamber music pieces include Songs of Ebb and Flow, premiered by Gerard Weber at the North American Saxophone Alliance in Lubuck, Texas; Winter Music, commissioned by the Saskatoon Symphony Orchestra Woodwind Quintet; and The Red Bear Reel, commissioned to commemorate the opening of the Red Bear Gordon Oaks Student Centre located on the University of Saskatchewan Campus.
The winner of numerous awards and prizes, including the 2017 Alumni Achievement Award from the University of Saskatchewan, Mr. Suchan has the distinction of being the first music graduate to be honoured with this award. He is the winner of of the 2014 Canadian Band Association Composition Competition for his band piece Swiftriver Passage. His band music is published with Eighth Note and Alfred Music, and his choir music with Cypress Music. He is a member of SOCAN, and the Saskatoon Musicians Union. His publications include an article on the Wind Music of Stravinsky, featured in the Spring 2016 Edition of Canadian Winds. He was also the featured composer of Canadian Winds in the Fall 2011 Edition.
Mr. Suchan's teaching experience ranges from secondary music and band at North Battleford Comprehensive High School; post secondary sessional lecturer at the University of Saskatchewan and the University of Montreal in subjects relating to composition. He has been a guest clinician and adjudicator at numerous festivals and camps including Saskatoon Band Camps, Summer School for the Solo Voice, Moose Jaw Band and Choral Festival, Saskatchewan Music Conference, and Honour Bands. Mr. Suchan is fully bilingual, and has experience teaching in both English and in French.
Mr. Suchan is a strong advocate for fellow composers and believes strongly in fostering creative communities. To this end, in 2011 he co-founded the Strata Festival of New Music, an annual 3 day festival dedicated to high quality performances of Saskatchewan and Prairie composers. The festival has been responsible for the creation of 38 new compositions, a majority of them from young and emerging composers. Recent guest composers have included Barbara Croall and Gordon Fitzell. Mr. Suchan remains an active performer, playing on the pipe organ weekly at St. Paul's Cathedral in Saskatoon, and playing jazz piano with a number of local groups. He also enjoys playing soccer and exploring the world with his daughter Evelyn.
DR. PETER MEECHAN The music of Canadian-based British composer Peter Meechan is performed throughout the world. His music has been commissioned, recorded, broadcast and performed by some of the world's leading wind orchestras, brass bands, conductors and soloists, including: "The President's Own" United States Marine Band, Dallas Symphony Orchestra, Bramwell Tovey, Black Dyke Brass Band, Dunshan Symphonic Wind Orchestra, The Band of the Coldstream Guards, RNCM Wind Orchestra, Steven Mead, Jens Lindemann, Ryan Anthony, Les Neish, Linda Merrick, the BBC Concert Orchestra, Edmonton Symphony Orchestra, Rex Richardson, Jacques Mauger and many more.
Meechan's music is featured on over 100 commercial recordings and has been featured at festivals and clinics globally, including the Midwest Clinic, the International Trumpet Guild, the International Tuba and Euphonium Association, BASBWE conferences, and in 2014 his work "The Legend of King Arthur" was used as the set test piece at the British National Brass Band Championships, held in the Royal Albert Hall, London.
Peter was the first ever "Young Composer in Association" with the prestigious Black Dyke Brass band, where he went on to serve as their "Composer in Residence", a position he also held between 2012 – 2015 with The Band of the Coldstream Guards.
He holds an undergraduate degree from the Royal Northern College of Music, a Master of Arts degree and a PhD (composition), both from the University of Salford.
Peter Meechan's music is principally published by his own publishing house, Meechan Music.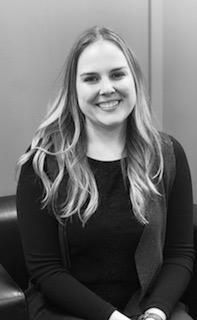 REBECCA FARTHING is a recently accredited Music Therapist (MTA). Originally from rural Alberta, she had a passion for music and a desire to help others and decided to pursue a degree in Music Therapy. Rebecca studied at Capilano University in Vancouver and completed her internship in Saskatoon and earned her Bachelor's of Music Therapy in 2019. She works at Prelude Studios Saskatoon Inc. where she works with many different ages and varying neurologic challenges.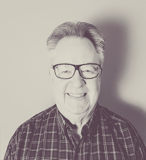 ROB BRYANTON is president of Regina's Talking Dog Studios, which in 1999 became the only studio between Toronto and Vancouver fully authorized by Dolby Laboratories for theatrical 5.1 mixing. Rob made his first record at twelve, was host of a 1974 CBC-TV music series at the age of twenty, and is proud to have worked as a sound designer and composer for hundreds of Saskatchewan film and television productions over the last four decades. Rob has been nominated ten times for Canada's prestigious Gemini Awards, five times in the category "Best Original Music Score for a Dramatic Series", and five times for "Best Sound for a Dramatic Program".
In July 2006, Rob launched a book and website called "Imagining the Tenth Dimension" which immediately vaulted to worldwide popularity: the website has seen a hundred million "hits" from over eight million unique visitors, and continues to average 1,000,000 hits per month. Since that time, Rob and his team at Talking Dog have created a number of different interactive projects aimed at the worldwide audience for his project, and this includes Rob's YouTube channel ("10thdim") which is currently approaching ten million views. As part of those explorations, Talking Dog has developed expertise in the new field of Augmented Reality, with successful projects for a wide range of international clients.
Jazz Jams: Looking for ways to improve your jazz chops? Trumpet player Silas Friesen and his quartet provide the encouragement and guidance needed to make your jazz experience both fun and educational. Set up to continue fostering jazz culture and community during the COVID-19 pandemic, the Saskatoon Jazz Jams has taken their physical Jam online to Facebook for a weekly instalment of pre-recorded play along jams, lead sheets and live chat, hints and tips.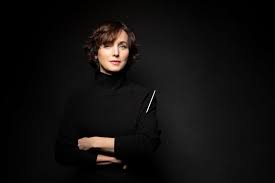 TANIA MILLER. Canadian Conductor Tania Miller has distinguished herself as a dynamic interpreter, musician and innovator on the podium and off. With recent invitations to conduct the Chicago Symphony, Toronto Symphony, Vancouver Symphony and the Orchestra Métropolitain de Montreal, Miller has appeared as a guest conductor in Canada, the United States and Europe with such orchestras as the Bern Symphony Orchestra, NFM Wrocåaw Philharmonic, Seattle Symphony, Oregon Symphony, National Arts Centre Orchestra (Ottawa), Vancouver Symphony, Calgary Philharmonic, Winnipeg Symphony, Louisiana Philharmonic, Naples Philharmonic, Hartford Symphony, Madison Symphony, Rhode Island Philharmonic and the New West Symphony among numerous others.
During her 14 year tenure as Music Director of the Victoria Symphony in Canada, Tania Miller gained national acclaim for her passion and commitment to the orchestra and community. She was the driving force behind new growth, innovation and quality for the Victoria Symphony, and gained a national reputation as a highly effective advocate and communicator for the arts. As curator, she distinguished herself as a visionary leader and innovator.
Acknowledged for the impact and success of her tenure, she was named Music Director Emerita of the Victoria Symphony. Recipient of the 2017 Friends of Canadian Music award from the Canadian League of Composers and Canadian Music Centre for her acclaimed commitment to contemporary music in Canada, Tania Miller has been a story about the impact of commitment and dedication to an orchestra and to the future of orchestral music through creative innovation and vision.
On the podium, Maestra Miller projects authority, dynamism and sheer love of the experience of making music. As one critic put it, she delivers "a calm intensity . . . expressive, colourful and full of life . . . her experience and charisma are audible". Others call her performances "technically immaculate, vivid and stirring". A recent review from Madison, Wisconsin; "Friday night's performance marked the first time I have sensed the audience wanted an encore for the conductor… the real star was guest conductor Tania Miller"
In 2015, Miller received an honorary Doctor of Laws degree from Royal Roads University in recognition of her exemplary work as a leader and for her extraordinary artistic achievements in the community. Canada's Royal Conservatory of Music bestowed her with an Honorary Diploma in 2015 for her impact on music in Canada.
Maestra Miller's early passion was opera; she conducted numerous productions for Michigan Opera Works in Ann Arbor (where she served as Artistic Director) and Opera McGill in Montréal. She obtained her doctoral and master's degrees in conducting from the University of Michigan.


LIL DUECE DUECE (TODD BRYANTON) is a Canadian musician and composer. He began posting YouTube videos under the name "LilDeuceDeuce" in 2011, and is creator of the Dr. Monster music series.
Bryanton has collaborated extensively with Thomas "TomSka" Ridgwell (youtube.com/tom). Bryanton has created music extensively for TomSka's asdfmovie series, such as the song "Beep Beep I'm a Sheep," which was also included in the game Just Dance 2018.
Bryanton also works as a music composer for film and television, and his credits include films starring Nicolas Cage, Christina Ricci, John Cusack, Wesley Snipes and Jessica Biel. Click here for a full filmography.
Bryanton plays keyboards, guitar, bass and drums, but drums are definitely his instrument of choice. Click here to see LilDeuceDeuce videos featuring live drumming.
Bryanton lives in Regina, Saskatchewan, Canada. He has played drums with a variety of bands in the local music scene. He lives with his wife Audra, his kids Cadence and Emily, and his dogs Fonzie, Potsie and Gus.