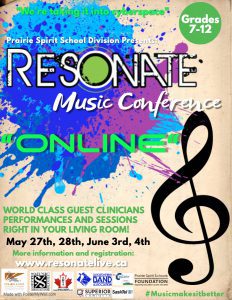 Resonate Online: The Show must go on!
Resonate 2020 at Beaver Creek may have been cancelled but we are excited to let you know that we are blasting Resonate 2020 off into Cyberspace!
Spreading over two weeks and four days, students will have the chance to experience Resonate and interact with world class musicians in a way like never before.
Save the dates in your calendar and register at the links below. Make sure you join us for the ride!
Students Grades 7 – 12:
Resonate: Online (Hosted on Microsoft Teams)
June 3rd & June 4th  #LockedDownAndLoud – Join a collection of artists new and old from across the globe for an unforgettable two days of sessions, discussions and performances.
To register, go to the following link.
Artist announcements and schedule coming very soon!