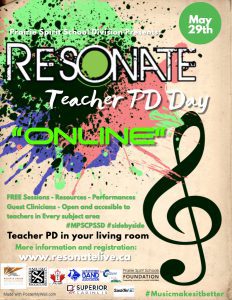 Teachers of all grades/subjects:
Resonate Teacher Professional Development Day (Hosted on Microsoft Teams)
May 29th
Join us for a day that provides resources for all teachers, inclusive instruction, creative development, use of music technology, music therapy and performance. Presenters include Brian Balmages (Composer, Conductor) Jacob Faithful (Drum keeper with Grammy nominated Young Spirit Singers) Jennifer Lang (K-8 Music and Choral, University of Saskatchewan) Rebecca Farthing (Music Therapist) and more tba. Resonate For Teachers is partially supported by Prairie Spirit School Division, Saskatchewan Music Educators' Association, Saskatchewan Band Association and St. John's Music.
To register, go to the following link. 
Schedule and more information on sessions to follow.