Registration is now closed.
Resonate Junior – February 3rd, 2022, online
Resonate Junior is for PSSD students in Grades K-6.  Join us for a day of hands-on, interactive music making sessions with Lawrence Roy Jr., Joseph Naytowhow, Joseph Ashong, and Mimi O'Bonsawin. Registration is free.
All information for Resonate Jr can be found in the Resonate Jr 2022 Program.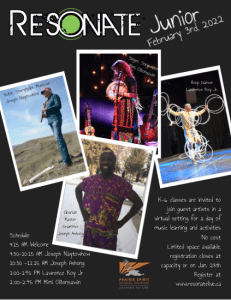 Schedule:
9:15 AM Welcome
9:30-10:15 AM Joseph Naytowhow – Storytelling & music
10:30-11:15 AM Joseph Ashong – Ghanian Drumming
1:00-1:45 PM Lawrence Roy Jr. – Hoop Dancing
2:00-2:45 PM Mimi O'Bonsawin – Song writing